Products Maintenance Warranty
Products Maintenance Warranty
Products Maintenance Warranty
Our Products
Structural solidity and iconic design make our products the ideal furnishing solution for creative offices, architecture and design studios, loft spaces, waiting areas, meeting rooms, coworking labs, fablab workplaces and retail shops. Tables and desks, task chairs, chests of drawers and furniture, whose main theme is steel. With our furniture we can meet the needs of the contemporary workspaces, designed for smart office solutions and knowledge worker worklife.
We manufacture our metal furniture products in our factory in Italy. The painting is made of epoxy powder.
The furniture components are selected for an easy disposal once ended their life cycle. Work surfaces, even executive, are made of recycled chipboard, which ensures low impact on the environment.
The strength of the raw materials, the choice of a timeless design, and the choice of neutral superficial finishes, can ensure a very long life cycle for all our products. Another step forward in reducing the industrial impact on nature.
Thanks to a detailed design of packaging, with components that occupy as little space as possible and regular packaging that facilitate storage, our products help to reduce impact on logistic operations.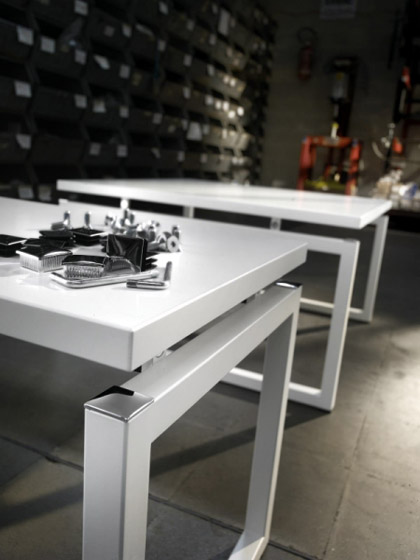 ---------
Use and Maintenance
Tables and chairs:
Clean structures and wooden parts with a mild detergent solution and a soft cloth. Do not use solvents or abrasive tools. Structural fittings and adjustable mechanism must be verified regularly, depending on frequency of use. Do not climb on tables or chairs. Before using a mechanism, read the specific instructions sheet of the product, following step by step the instructions indications.
Filing furniture:
Clean structures with a mild detergent solution and a soft cloth. Do not use solvents or abrasive tools. Furniture must be placed in a flat surface and must be controlled the stability. Do not put more than 30 kgs on a single drawer or shelf. Do not climb or sit on the drawers or shelves. With chest of drawers, open only one drawer at a time to prevent tipping. For public spaces use, the plan chest have to be fitted with anti-tipping kit, please request the optional kit.
---------
Warranty
We guarantee to the consumer all our products for a period of 2 years from the date of delivery. The warranty do not apply in case of improper use or incorrect maintenance.
We guarantees all our products for a period of 1 year in case of sale to the professional user. The warranty does not cover components and parts subject to normal wear out during use.